Apr 4, 2011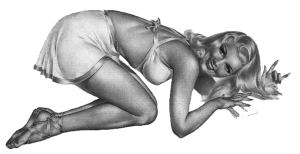 Hello, meus queridos e amáveis leitores! s2
Quero pedir mil desculpas por estar a tanto tempo sem postar, mas não tenho tido tempo. As coisas estão difíceis para o meu lago esse semestre!
Porém é com muita felicidade que venho falar para vocês: - Eu fui! E fui pela segunda vez no show fodástico do Iron Maiden!
Dessa vez com a compainha dos meus #BFF @volmerius, @alanuska e @charlonp, fomos rumo a turnê "The Final Frontier". Muitos não acharam esse álbum muito bom, mas por experiência própia digo que ele deve ser escutado uma segunda vez e aí sim você vai conseguir sentir todo o poder que essas músicas trazem.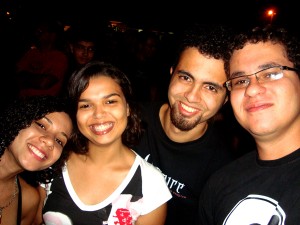 Entretanto o show não foi só de músicas novas trouxe também antigos clássicos fazendo-nos lembrar da Turnê anterior, Somewhere Back in Time, com músicas como Iron Maiden, The Trooper, 2 Minutes do Midnight, além é claro de The Number of the Beast.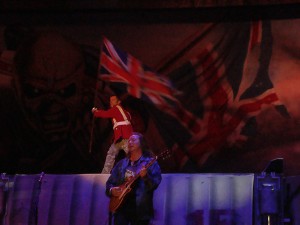 Não sou uma grande conhecedora da história do Iron como a @alanuska que sabe todas as músicas, de todos os álbuns e o que eles tocaram em cada turnê, mas posso dizer que os shows deles são únicos. E não venham me dizer que eles vivem de passado, porque isso não importa, quem ouve as músicas deles sabe que cada 8, 9, 10 minutos de música é uma experiência, uma história que te faz imaginar todas as passagens que são cantadas por ela. E eu não sou suspeita por dizer isso, pois não sou uma grande admiradora do metal, mas o Iron me faz querer ir em todos os shows, ser amassada e trucidada por milhares de headbangers.
É emocionante levantar as mãos \o\|o|/o/ e cantar "ô ô ô ô ô ô ô ô ô" cada vez que eles tocam "The Trooper" e perder a voz de tanto gritar cada vez que o Bruce Dickinson pede "Scream for me, Brasília". Esperar ansiosamente como o Eddie vai aparecer no palco. E ver todas as peripécias dessa banda que só tem gigantes da música.
Ah... Iron... Espero te reencontrar de novo algum dia, quem sabe no Rock in Rio. Que tal?

Fica para vocês a música que eu mais gostei no álbum The Final Frontier: The Talisman.
When I stand and look
About the port
And contemplate my life, will I
Ever see my countrymen again?
As the captain calls us on the deck
I take my things and walk
To the harbourside, I glance back
One last time.
Fleeing our nation, our problems
We leave behind.
Ships by the tenfold sail
Out on the tide.
We are pleased to be out and
Embracing the open sea.
Free from our troubles
And more free from thee.
Inheritors unfulfilled reason
Behind us.
We flee from what is not what
Is will be.
We flee the earth and face our
Harsh reality.
Will death be low mist that
Hangs on the sea?
We run from the evil tongues, rash
Judgements, selfish men
Never to be seen on these
Shores again.
As we sail into oceansize
And lose sight of all land
A face of contentment
Around in the air.
We're off now to
Seek all our fortunes.
To the land of our dreams.
Riding the waves and the storm
Is upon us.
The winds lash the sails but
The ropes keep them tight.
Off in the distance a dark cloud
Approaching.
None could imagine what there
Was to come.
No, there's no one going back.
No, there's not a second chance.
As we strap onto the side
We pray to God that we don't die.
As we ride the rough seas,
As we soak from the ocean waves,
I just hope for all our lives
And pray that I survive.
Four ships are lost in the
Stormy conditions.
The spirits of the sunken crews,
Their phantoms follow us.
Spirits, sails, they drive us on
Through the all consuming waves.
Cold mortality, no weapon
Against these ever raging seas.
Four leagues and ten and we
Hit storms again.
We just can't get away from
The eye of the storm.
The birds outsoar the raging storm
But we cannot escape it.
Abandoned earth that we
Now crave
Is many leagues from safe.
Holding on for our dear lives
And we're praying once again.
Rotten luck or just jonahed?
The talisman is in my hand.
Limbds fatigues, trembling with cold.
Blinded from the sea spray salt.
Clasping anything we can hold.
Heave's rain upon us falls.
Twenty days without a meal
And ten without fresh water still.
Those that didn't die in storms
The scurvy rest did slaughter.
Westwards the tide.
Westwards we sail on.
Westwards the tide.
Sail by the talisman.
We approach the other side
Of the ocean with the tide
In our favour just for once.
Welcome greeting, our new land.
The elation in our hearts,
The excitement in our veins
As we sail towards the coastline
Of our golden promised land.
Weary limbs fatigued away.
I have no life left in me.
No more strength and nothing
Left to give.
Must find the will to live.
Never thought that we could
Make it.
Truly sight of shores divine.
The sickness I am dying from.
Never wanted it to end this way.
Westwards the tide.
Westwards we sail on.
Westwards the tide.
Sail by the talisman.
See Ya!
Postagem feita ao som de The Talisman